Superfoods to the Rescue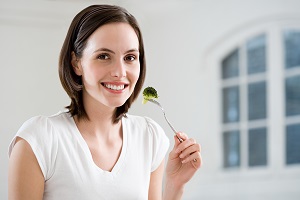 Eating a healthy balanced diet is key to overall health and wellness but are you missing out on achieving optimal health because you don't eat nutrient rich superfoods? Superfoods help the body's functions but can also fight off disease and illness which can extend your lifespan. Find out which superfoods you should be eating and why. The body needs the basic nourishment of vitamins and minerals found in a balanced diet but superfoods offer special benefits for the body. Many superfoods are rich in phyto-chemicals that have disease-fighting properties and can help strengthen the immune system.
By adding some of the following superfoods to your diet you can improve your health and even fight off disease.
Apples – Packed with vitamins and minerals and with a low glycemic index, they can help with digestion and the pectin helps to lower cholesterol levels in the blood. Apples also contain antioxidants that can help ward off disease.
Blueberries – Antioxidant rich and can reduce the risk of cardiovascular diseases and cancers. The flavonoids are anti-inflammatories and can alleviate the symptoms of arthritis.
Beans – Rich in fibre, protein, calcium and iron. Beans reduce the risk of colon cancer.
Olive Oil – Contains mono-unsaturated fat which reduces the risk of heart disease by boosting the level of high-density lipoprotein in the blood. It also contains antioxidants which help protect the body from free radicals.
Broccoli – Contains phyto-chemicals that can protect against cancers and age related mascular degeneration. It can also help to lower cholesterol levels.
Tomatoes – Full of lycopene and vitamin c which are both antioxidants. Tomatoes also help to improve bone health and decrease the risk of neurological diseases.
Salmon – Rick in essential fats called omega-3 fatty acid which helps with joints, cognitive health and to maintain healthy cholesterol levels.
Green tea – A powerful antioxidant that can reduce the risk of cancer.
Avocados – Contain only the best kinds of fat and also help the absorption of bad fat from the body. Rich in potassium, folate, and fibre they help prevent arthritis. With a high potency of lutein they aid in eyesight as well.
Sweet Potatoes – Contain phytonutrients that help the eyes, heart and will boost immunity.
Ginger – One of the best superfoods, ginger is rich in magnesium. It aids in the detoxification of the body and promotes weightloss. A ginger herbal tea will help to get rid of colds, headaches and can fight off the flu
Now that you're aware of the superfoods that are out there try adding a few to your diet. Before you know it you'll be feeling like a super hero.
…
to read the entire article go to http://fsalvatore.lifestyleezine.com