Professional Email Etiquette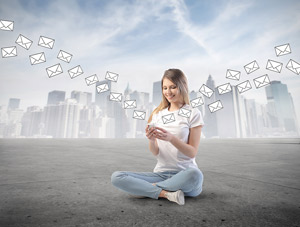 One of the first signs of professionalism lies in one's communication. With email being the prime method of business communication these days, it is important to know how to interact through email while maintaining a professional image. Whether you are emailing with someone for the first time or if you email with this colleague often, here are some rules to keep in mind to make sure people aren't second guessing your professional status.

First Impression
Remember, the first thing the recipient will see is your email address and the subject of the email. Make sure to have a professional email address, such as your name or initials, along with an up-to-date email provider. Using an outdated provider with an email address that is clearly more personal than professional may leave a bad impression.
You want the recipient to know from the title of the email what it is about. A good subject line can sum up the entire email in just a few words, such as, "Tomorrow's Meeting" or "Proposal Suggestions." If the recipient knows what they are opening, they are more likely to address the email in a timely fashion than if the subject is simply, "Hey."
Starting the Email
Make sure that you know the gender, spelling, and correct professional salutation of your recipient. Do not assume a unisex name is male or female without doing a little research. Also, double check the spellings and salutations of people, so as not to refer to a "Dr." as a "Mr."
The opening of the email should be formal and professional. Avoid terms such as "hey" and opt for a more professional "hello." When forming this salutation, also avoid shortening someone's name unless specifically directed to do so. Do no assume somebody by the name of William goes by Will, for example.
The Body
It is important to know your audience when writing an email. Remember, first of all, that people of different cultures write and communicate differently. Take this into consideration when communicating with people of other cultures.
Also, while it may be tempting to sound enthusiastic or likable in emails, avoid the overuse of exclamation points and humor. This may not come off to the recipient as intended.
Proofread each email before adding in a recipient. You do not want to accidentally hit "send" on an email that was incorrect or incomplete before catching your mistakes. The last thing that should be added to an email is the recipients email address, and it should be ensured that it is correct.
Replying to Emails
Reply to all emails that warrant a reply that come to your inbox, even if they are not directly sent to you. This lets the recipient know that you have read and understood their communication. When replying, be sure to not hit "reply all" unless it is absolutely necessary. Conversations that only need to be between two people do not need to fill up other people's inboxes and unnecessarily take up their time.
The most important thing to remember about email communication is that nothing is strictly confidential. Once you hit send, your message is out there and cannot be retracted. For this reason, use caution when emailing with people to make sure you do not say anything that you will later regret.
…
to read the entire article go to http://fsalvatore.lifestyleezine.com