Tips for a Happier Marriage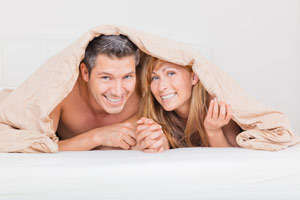 Personal relationships are crucial to your overall health. Long term relationships can either benefit or harm your health, depending on the health of the relationship. Studies have actually shows that marriage has a positive effect on one's physical health. However studies have also shown that marital functioning has parallel positive or negative effects on one's health.
Unhappy marriages may negatively affect one's health by increasing the risk of depression and destructive habits. It may also influence cardiovascular, immune system, and endocrine system health as well. Here are some tips to keep both your marriage and your health in good condition.
Communicate Often
Couples who are happy take time out of their day to reconnect with their partner. Sharing the menial details about each others' day helps both people feel like they are a part of the other's life.
Doing this prevents the compartmentalization of work and marriage. While each person has their own life, their marriage is something that overrides all of the compartments and links to everything a couple does, both inside and outside of the marriage.
Create a Financial Plan
One of the most common causes of divorce is financial stress. It is important to agree with your spouse on a financial plan. Discuss long- and short-term goals and steps you need to take to reach them. Revisit the plan often to make sure you are both still happy and on track.
Mental Monogamy
While you vow to be physically monogamous, partners may not be monogamous mentally, by becoming emotionally invested in another person. Sexual fantasies also shape reality, so it is important to be loyal to your spouse to maintain a strong relationship.
Always Be Respectful
While arguments are inevitable, how you argue can make a big difference between a constructive discussion, and one that harms your relationship. Avoid using insults during an argument or devaluing the other person. Couples will not always agree, but it is important to always be respectful.
Be Truthful
Being honest with your partner about your feelings will help the relationship become more intimate. Remember that your partner does not know what you are thinking unless you share it, and your open communication will help avoid misunderstandings. Open up to each other regularly to help the other understand.
Make Your Marriage a Priority
Everyone has a very busy life with careers, kids, hobbies, and families. However, the happiest couples are able to prioritize their marriage ahead of everything else. Do this by making time for each other to connect and enjoy being together. Be an example to your children by showing them what a healthy marriage looks like so they will know what to aim for in the future.
Make sure to prioritize your marriage even while the children are young. They will soon grow out of the house and you will be left with your spouse, and hopefully a strong relationship.
Do Not Have Exit Strategies
To be fully committed to a marriage, you must remove any suggestion of divorce separation. If anyone has a backup plan, the marriage is going to fail. Marriage is meant to be a lifelong commitment, and the strength of this commitment is parallel with the strength of the marriage.
Small Gestures to Strengthen Your Relationship
While couples' counseling is always an option, try to do a few small things to see if they result in a big difference.
Give More Hugs
Hugging increases the levels of oxytocin in our brains, which helps with intimacy. Oxytocin also decreases stress hormones that your body makes and keeps your blood pressure low during anxiety-producing events. Oxytocin is likely to be a reason why people who are married live longer than those who are single.
Hugs help to develop patience, and even simulate the nervous system to decrease feelings of fear and loneliness. Hugs also increase self-esteem and show appreciation for your partner.
Don't Neglect Sex
Studies have shown that having sex over once a week does not increase the happiness in a marriage. That being said, it is important to make sex a weekly priority. Research shows that sex increases the satisfaction among couples. Sex also results in the release of oxytocin, which helps partners feel bonded.
Kiss
While kissing may fall off the radar after a certain period of time in a long relationship, kissing prompts the brain to release serotonin, dopamine and oxytocin, which are chemicals that make you feel bonded to your partner.
Recognize All Goals
While you and your partner are on the same team, you are both still individuals. Find a balance between your personal goals and your goals as a couple. Support each other and figure out how you can complement one another?s lives separately, while continuing to work together to achieve your shared goals.
Be Wary of Technology
Technology and social media may communicate the idea that there?s always something or someone better out there. Even if a partner is not looking for other options, technology provides an ease of finding social support online, rather than with your partner. It?s also common to let the hours go by on your device, rather than re-connecting with your spouse.
Technology can be used in a happy marriage, but it is best to set boundaries and certainly ?unplug? to connect with your partner without distraction.
Don't forget to show your partner appreciation. Even if it is just a simple thank you for doing some extra work around the house, appreciation is always helpful in a marriage.
…
to read the entire article go to http://fsalvatore.lifestyleezine.com