Traits of a Great Leader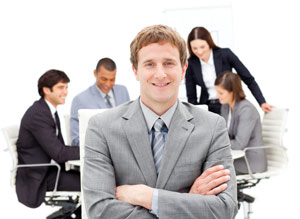 In order to motivate other people, leaders must believe in the abilities of the human spirit. The best leaders find their passion to be in the advocacy and development of others, leading up to their ultimate success. Effective leaders are inspiring, social, energetic, involved, emotional, and expressive, with a natural ability to inspire others to be best that they can be. Leaders can facilitate the creation of positive change, while acting with integrity. Here are some traits of the most effective leaders.

Belief
To be successful, leaders need to believe in both their mission, as well as the people they are working with. Without believing you will succeed, there is no motivation behind working. When a leader believes a mission will be successful, that will pass on to the team members, creating a motivating and energetic environment. With energy comes action, which will eventually lead to success.
Encouragement
Because leaders believe in their mission, they thrive on encouraging the members of their team to stay motivated and work hard. It is easy to encourage others when the mission and its purpose are clear. When people who are part of a team believe that their leader has faith in them, they are motivated to live up to those expectations. The best leaders stand in front of their team, guiding and encouraging them throughout the journey.
Dreamers
Leaders have a dream. They always believe that their greatest successes are ahead of them. This inspires the same type of visionary thinking in others. Team members begin to believe that there is no dream that is too big. There is an infinite realm of possibility in the minds of the best leaders. Leaders use brainstorming as a tool to continue to expand their ideas. Brainstorming helps team members think outside of their comfort zones, leading to innovative ideas.
Advocate
Effective leaders advocate for their team members to reach self-actualization. They evaluate each member of their team to maximize their strengths and find where their weaknesses are so they can grow. Leaders are a part of their team, and they are genuinely interested in the individuals they work with. Leaders not only guide, but also coach, elevate, promote, and understand what their team members need.
Direction
Great leaders know where they are going. They know that people who do not have a sense of direction will not be focused. When there is clear direction, it lets people work together in the most effective way. The leader sets the direction of the mission, which then lets each team member be clear on their role and its intention. Disorganization and luck do not lead to success, proper direction and focus do.
Change
Leaders expect and prepare for change. A leader needs to be flexible in their planned direction, as obstacles come up unexpectedly. Directions often change to create better strategies for ultimate success. Leaders are aware of the fact that change is an essential element for their overall progress. It creates resilience, creativity, and growth. Change puts people in the position of having to think quickly and outside of the box. It is important to be calm and patient during an unexpected change, which creates a positive role model for team members. The best leaders know that sometimes the best outcomes are a result of an unexpected change.
Responsibility
Leaders know that they are not only responsible for themselves, but also for their team. Leaders do not feel entitled to put their responsibilities onto a team member, while leading from a distance. They do their work themselves and take blame if there is a failure. Leaders create an atmosphere where team members feel they are the reason for success, which results in team members being willing to take responsibility for their own roles.
Aptitude
Leaders not only love people, but they are also inspired from within. They are not believers in quitting, believe that learning is never a finite process, and pass their knowledge on. Leaders are constantly educating themselves, with a focus on learning about other people and how they can help them succeed. Great leaders do not believe in fear tactics or degradation to motivate their team, because they know it will not last. Instead, they promote personal development and the continuous development of each person's strengths.
Suffering
Suffering is a big part of developing a leader. Suffering develops motivation, character, passion, and the ability to create effective strategies quickly to avoid failure. Success that comes from suffering creates a deep sense of loyalty and cohesion between a leader and their team.
Expert
Leaders know that when a person is made to feel as if they are an expert in their role, that person will strive to maintain that reputation. When a team succeeds, the leader gives the credit to the team. Great leaders are not satisfied with success unless each member of their team is acknowledged for their hard work. Each team member must be completely trusted to take full control of their position. This creates a sense of pride in each team member's value. Leaders are able to make all team members feel as if they are the leader in their designated role.
Great leaders are motivating and exciting. They bring succeed in their missions by bringing their team members into a cohesive unit. A good attitude and passion for success is contagious from a leader to each team member. The support that leaders give their team members inspires them to do their best.
…
to read the entire article go to http://fsalvatore.lifestyleezine.com