Health Benefits of Cold Soup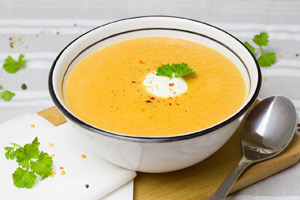 A warm, comforting bowl of soup in the middle of January sounds like a really fabulous dinner. However, put that same meal for lunch in the middle of July and you are likely to feel uncomfortable. During the warmer months, while we still want to eat healthy and hearty food, something a bit cooler sounds more enticing.
Eating soup is a great way to give your body a lot of the vitamins and minerals it needs at once. If you want to continue eating this healthy meal during the warmer months, consider making cold soups. These are refreshing and flavorful blends of produce that are in season and your body will appreciate.
One great thing about cold soups is that the ingredients are likely not cooked, or they are cooked very lightly. This helps the ingredients contain their nutrition without it being heated out by boiling the soup. You can also top these soups with fresh, whole ingredients such as avocado to add some more creaminess and flavor. Adding some extra spices can even add to the nutrition of your meal.
Spices and Weight Loss
Raw plant-based foods contain the most nutrition out of anything you can eat. The same goes for herbs, spices, and nuts, which are all typically considered to be plant-based. Cold soups also contain a good amount of water, which will help keep you hydrated during the spring and summer.
Each spice is unique in its features, both nutritionally and flavor-wise. Combining spices can provide your cold soup with unique flavors that are new to your palate. Spices are also great to use because a little bit goes a long way, so they are very cost effective.
Some spices such as turmeric, cumin, cinnamon, and cayenne have been reported to aid in weight loss. They are said to help flush out toxins and increase your metabolism. Cinnamon is also known for stabilizing blood glucose levels, and other spices are known to lower inflammation. While adding spices to your meals with no other lifestyle changes won't make you lose weight, they can certainly be incorporated into a healthy lifestyle to help you lose weight.
For example, black pepper contains a piperine, which is a substance that not only provides pepper its intense flavor, but also helps to block new fat cells from forming. Ginger can also help aid weight loss because its thermogenic properties help boost metabolism and have an appetite-suppressant effect when it is eaten.
Antioxidants
Raw, plant-based foods are rich in antioxidants, which is important for our health. Exposure to certain environmental toxins like household cleaners and radiation make the body produce harmful free radicals. These harmful oxidative molecules are also created when your body produces energy while exercising, while metabolizing foods, and even when your body is inflamed.
Here are five diverse recipes of cold soups that are healthy and fulfilling for the summer. They have sensational and diverse ingredient combinations and a great dose of antioxidants. If you can shop at a local farmer's market to get your ingredients, do so, because local ingredients contain the most nutrition.
5 Nutritious and Satisfying Cold Soup Recipes
1. Chilled Pea, Avocado, and Mint Soup
This soup is rich in healthy fats and plant-based protein. The mint adds a hint of flavor that keeps it extra refreshing.
Ingredients
3 1/4 cups podded peas, fresh or frozen
2 1/2 cups chilled vegetable stock
1 large peeled and pitted avocado
1/3 cup coconut milk
2 cloves of peeled garlic
3/4 cup packed mint leaves
2 tablespoons lemon juice
Salt and pepper to taste
Procedure

Blend together the peas, vegetable stock, coconut milk, avocado, garlic and mint leaves until it has a smooth consistency. Stir in the lemon juice and season to your liking with salt and pepper. Chill this soup in the fridge for an hour before serving.
2. Peach Gazpacho
This beautiful summer soup creates a delicious meal out of fresh peaches. The best way to get the most flavorful peaches is from a farmer's market or a roadside stand.
Ingredients
7 very ripe peaches
1 small finely diced shallot
1 peeled, seeded, and diced cucumber
1 small clove of minced garlic
2 tablespoons chopped fresh basil
a pinch of salt
Procedure

Remove the skin from the peaches before pureeing the pulp and juice in a blender until it is very smooth. Stir in the rest of the ingredients by hand.
Before serving this chilled soup, garnish it with diced cucumber and basil.
3. Watermelon Gazpacho
This is an easy recipe and a fun way to serve fresh fruit. One of the best things about this recipe is you can adapt it to your own taste preferences. You can even add fresh crab meat to it to make it even more seasonal.
Ingredients
6 cups coarsely chopped watermelon
2 diced green apples
1/4 cup diced onion
1/2 cup diced green bell pepper
1/2 cup diced cucumber
1/4 cup diced pineapple
1 tsp dried basil
1/4 tsp chili powder
1 Tbsp cider vinegar
1.5 Tbsp honey
salt and pepper to taste
Procedure

This recipe is very easy to make, as all you have to do is combine all of the ingredients into a blender and puree it until smooth. Chill the gazpacho for at least one hour before serving so the flavors can meld together.
4. Chilled Cucumber Soup
This refreshing recipe is quick and easy to put together but needs to chill for four hours before it is served. It is well worth the wait, though.
Ingredients

1 cup peeled, seeded, and diced cucumber
½ cup water
1 cup plain Greek yogurt
1 diced medium green onion
2 tsp Dijon mustard
2 tbsp dill
2 tbsp parsley
Procedure

Process all of the ingredients in your food processor until it has the consistency of a puree. Let it sit in the refrigerator for at least four hours so the flavors can come together for a light yet delicious meal.
5. Corn and Red Pepper Soup
This vegan soup turns out to be very creamy, despite the lack of cream in it. This recipe is also very adaptable to your personal tastes.
Ingredients

16-ounce bag of thawed frozen sweet corn
half of 1 large red bell pepper
1/4 cup nutritional yeast
1 Tbsp coconut oil
1 tsp cumin
1 tsp smoked paprika
1/4 tsp cayenne pepper
1 peeled garlic clove
1 cup of water
salt and pepper to taste
Procedure

Add about 3/4 of your corn to the canister of a high-speed blender along with all of your remaining ingredients and a 1/2 cup of water. Blend this until is has the consistency of a puree.
After you have reached your desired consistency, stir in the rest of your corn by hand to give the soup some texture. You can add salt and pepper to taste, but it is not required.
Serve this soup cool like you would a gazpacho, and store any leftovers in an airtight container in the refrigerator for up to 5 days.
There are so many different chilled soups you can make out of fresh, raw produce that will give your body the boost it needs. This is a flavorful way to fuel your cells with useful nutrition while also giving yourself a chance to cool down. Serve these soups at a dinner party, or even bring them to the beach in a cooler so you can snack on them while enjoying the summer sun.
…
to read the entire article go to http://fsalvatore.lifestyleezine.com