Travelling With a New Significant Other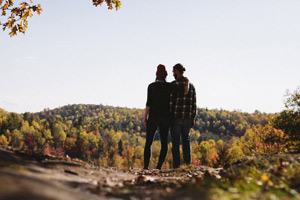 The phase always seems to be a bit short. That transition from when you are lusting over your most recent significant other to when you are settling into a comfortable routine and you all of a sudden don't think everything the person does is irresistible. As soon as you cross that line, there is no going back.
So do you decide that you are disappointed enough to throw in the towel? Or do you think that initial spark was enough to ignite some more romance? This is the time to put your relationship to the test and take a trip together. This journey will help you realize if this is "the one" or not…and fast. Here are a few reasons why taking a trip together will either solidify or break your relationship.
It Will Help Build a Bond
Traveling with each other allows you build a concrete foundation of romantic memories. Between the romantic views, dinner dates every night, and skimpy beach clothing, you are getting a pretty good picture of who this person is.
Vacations also bring about a sense of romance that you have probably lost in your 9-5 routine. Staying in a hotel gives you a sense of freedom that allows for your sex life to reappear in a whole new way and you will be able to return home with a collection of memories, pictures, and funny stories that you will be able to recount for months. This will certainly make you want to do it all over again.
It Will Test You in Stressful Situations
You will likely be stressed out before you even leave for the airport trying to make sure that you have locked all the doors and packed everything you need. You turned the oven off, right? This is only the appetizer to the airport, which provides a whole new level of stress. Your patience will be tested with delayed flights, short (or extra long) layovers, and slow luggage checks.
This will allow you to see your significant other at their best and worst. You will quickly find out how patient and flexible your partner is, which will let you peek into your future with this person for even more stressful life situations to come. Seeing how your partner handles stress when your relationship is not the issue will show how this person will act towards you when faced with rocky times.
Manners
Being able to see how your partner treats people in the hospitality industry will show you a great deal about their character. While it is important to see how polite they are in a typical situation and if they tip, say please and thank you, etc., it is also really important to see how they change if a problem arises. Are they the person in line who causes a scene and you turn red with embarrassment? Or do they exchange a quick glance with you when some other guy is loudly complaining?
The Next Morning
While you are back home, you are used to getting the chance to freshen yourself up in the morning or go back home so you can use the bathroom. However, you will be baring it all in tight quarters on vacation, so this is a true test of love. If you can live with each other's bad habits 24/7 for a week, it is a good sign.
While all of these things may show you that you may have found "the one", they may also give you a pretty solid hint that you have not. Either way, you have done yourself a favor. If you discover that your partner is rude, high maintenance, and inconsiderate, at least you found out before things got too serious. While you may be out of money, at least you got to spend some time somewhere that had beautiful scenery while you were doing it. In the long run, you have saved yourself time and money. Alternatively, you may find that your partner is great! In this case, it is a win/win and you can start to plan your next adventure.
…
to read the entire article go to http://fsalvatore.lifestyleezine.com