How to Effectively Meal Prep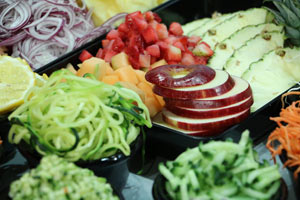 People who take the time to plan out their meals for the week are more likely to stick to their healthy intentions and resist random snacking temptations.
When you have a hectic schedule, it is tough to take the time to create healthy meals, especially when it is so easy these days to buy a pre-made meal. The work schedules of young adults are certainly a barrier to clean eating. Men, in particular, are at a high risk for gaining weight while trying to make it through their week.
Poor decision making when it comes to food choices when you are rushed and hungry are almost inevitable. To keep yourself from falling down this slope, you should prepare your meals ahead of time for the week, which leaves out the option of making a decision. You have already done the work for yourself, so you have no excuses to grab a meal from a fast food restaurant.
While prepping a week?s worth of food may seem daunting, it gets easier the more you do it. The best thing is that it will certainly save you time and money in the long run.
Here are 4 simple steps to proper meal planning, plus two weeks? worth of sample meal plans to help you get started.
1. Check your calendar.
How total meals, including breakfast, lunch, and dinner, will you need this week? While meals will require prep work or extra time? Thinking about every time you will need a meal this upcoming week, plus the times you won't, can help you plan more efficiently and avoid wasting money and food.
2. Create a menu.
Once you know how many meals you will need, here is how you decide what to make.
Make sure that your meals are nutritionally balanced. For each meal, aim for up to 40 grams of lean protein, such as turkey, fish, chicken, eggs, up to 20 grams of fat, such as avocados and nuts, and up to 60 grams of carbohydrates, such as quinoa and whole wheat bread.
It is important to get creative so you are able to look forward to your next meal. Prepping food in bulk is easier than working with different food every night of the week. However, eating the same foods all week is boring, so need to consider other ways to use the ingredients that you prepare in bulk in different ways. For example, you can slice bell peppers and eat them plain as a snack, you can sautee them add them to a stir-fry, or you could cut them in half to make stuffed peppers.
Leftovers do often taste better the next day after the flavors have been given time to meld together. Make dinner for two and package half of it up for the next day for lunch at work. Double up the recipes you love so you can enjoy them for a few days after.
Keep your meals simple. You don't have to try to create things you have never heard of before or try to make yourself fancy foods. This can be an uncomplicated process to take the additional stress of meal planning off of your plate for the week.
3. Go food shopping.
After you have decided what you are going to prepare, make a list of what you need and go to the store. Try to do your big shopping on Saturday or Sunday so you can allow yourself to have the needed time to prepare your ingredients on Sunday night before the work week starts.
4. Pack up your meals.
It is easiest to prepare and package your meals during the weekend before the crazy activities of the week begin. Make sure to clean all of the produce you purchased, simmer any grains, chop the vegetables, and cook rice.
Once you have done this, you can separate and assemble anything that makes sense, such as making dinners all ready to stick in the oven or separating fruit in proper servings for smoothies. This will help you to not have to worry about portion sizes throughout the week or putting dinners together at the last minute.
For your to-go meals, make things like sandwiches and leafy salads the night before you plan to eat them. If they sit for too long in the fridge, they can become soggy, but putting them together just the night before is fine.
Meal Prep Template
Here are a few easy recipes to inspire you to start meal planning and prepping. They use a lot of the same ingredients, which makes it easier for you in the grocery store and when it comes time to prep your food.
The benefit of making multiple servings allows you to eat the meal more than once that week if it is something that you particularly enjoy, without much additional effort. Remember that these are just your meals, and you will likely need to supplement them with snacks throughout the day such as vegetables and hummus or a piece of fruit.
Here is a general template for what a day's worth of meals should look like:
Breakfast: 2 scrambled eggs on toast with 1 slice of avocado
Snack: small apple with peanut butter
Lunch: chicken, broccoli, and brown rice bowl
Snack: raw vegetables and hummus
Dinner: Meatballs over 1 cup of cooked whole wheat pasta and 1/2 cup marinara sauce
This is only a template. You don?t need to try to be creative every week and come up with new ideas. Rather, use this template to swap in different flavors and ingredients to create new meals. For example, have a banana instead of an apple for a snack, or change up your proteins to include heart-healthy fish like salmon. You can also choose your own herbs and spices to make the food palatable to you.
…
to read the entire article go to http://fsalvatore.lifestyleezine.com