Questions to Ask to Reignite Your Flame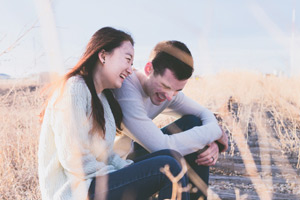 Being comfortable enough in a relationship to settle in and start finishing each other's sentences is great. But what if it starts feeling so familiar that it becomes boring? If you need to get some of the sparks back into your relationship because it seems like things have started to fall a bit flat, try asking these new questions. It will help to reestablish the connection between you and your partner that may seem a bit lost among the routine of life.

Have I made you laugh recently? When?
Laughing is one of the best way to create lasting memories. It activates the reward center in the brain that releases dopamine, making you instantly feel good. If you stop to think about the last time you really laughed together, you can rehash some old memories and probably bring back some of the humor to the present moment. Talk about all of the times the two of you have cracked up together to get a few smiles in.
What do you consider to be our best vacation?
Routines begin to make our relationships boring. Our busy lives and responsibilities often make us distant from our partner as we go along with working through each day. Stopping to talk about some more exciting and laid back times can help you two remember how much fun you are able to have when you can get away from your routine.
Even just thinking about these past experiences together can bring you back to the same feelings of being on your relaxing vacation. That calm demeanor can carry over into your home life and you may find yourselves to be less stressed and irritable, and more willing to take a deep breath.
Do you have a sexual fantasy that we have never talked about?
True connectivity requires both partner's emotional and sexual feelings to be in sync. Once people have been in a relationship for a long time, they do not often stop to talk about their sex life. However, it is not only important but also healthy to talk about what you want without feeling guilt or embarrassment.
Have this conversation without putting pressure on each other to play these fantasies out. Use your imagination to come up with some things that you are both comfortable with. This may help to reignite the passion in your relationship and spice up your intimate lives.
How can I speak your love language?
We all know the various love languages, gifts, quality time, words of affirmation, physical touch, and acts of service. It is important to know your partner's love language so you can act in a way that makes your partner feel loved and appreciated.
Often people end up speaking the love language that they like to receive them self, but it is key to remember that everyone feels love and appreciation differently.
Talk to your partner about this. You can even take a love language quiz online if you are unsure what your or your partner's language is. This way, you will be able to come up with solid ways to show each other how much you care. Remember that your love language may actually change over time, so it may be helpful to revisit this conversation every so often for a refresher.
When do you feel like we are close?
When you ask your partner to tell you when they feel close to you, you?re able to learn when they feel emotionally connected to you. This emotional intimacy is important for a long-term and successful relationship.
Also, this communication and intimacy is essential in order to have a rewarding sex life. While your partner may not necessarily feel the closest to you when you are in bed, it can bring you together if you know the answer to this question. Whatever their answer is, keep it in mind when you?re looking to reconnect, whether it is after an argument or if you have just started to grow apart.
…
to read the entire article go to http://fsalvatore.lifestyleezine.com